Posts

848

Joined

Last visited
Kangaroo495's Achievements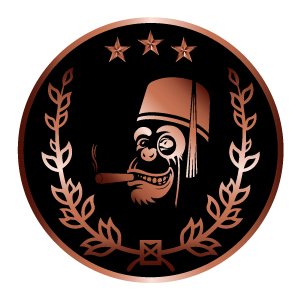 Campanas (3/5)
Acutally, I don't believe so. Only the packaging of cigarettes. Which, incidentally, appears to have had only one effect so far - people are tending to buy the cheaper brands of smokes.

Forgot to add, that I received a nice little gift on the day from my Russian Cigar Union friends: Btw, the humidor was the gift, not the table. Made by Vyacheslav Kirsanoff (who has his own cigar brand).

Hi all! The conference was a great success! I was actually surprised at the amount of people who trekked all the way to Moscow to participate. Had one bloke from Jakarta, another from Chile, others from Europe. The confernece dealt with both cigarette and cigar smokers' rights, however, the whole occasion was organized by the Russian Cigar Union, and it seemed the majority of participants were cigar lovers. Unfortunately, due to work, I had to duck out for a few hours, so missed some of the speeches, but here's the memorandum which we all agreed on: We, the participants of the First International Conference on Smokers' Rights, have met in Moscow to share experiences and look for solutions how to achieve public consensus on the issue of tobacco smoking, and find effective ways to have our voice heard on a global level. We observe many countries adhering to the balanced approach to tobacco regulation, equally respecting smokers' and non-smokers' rights, while others take very radical steps to exterminate smoking and to turn adult smokers into social outcasts. Strange as it may seem, the former often enjoy lower smoking incidence than the latter. We believe that modern society cannot be divided into first-class and second-class citizens, so public consensus must be based on a mutual respect. The rights of one person should not violate other people's rights. We note that tobacco smoking is a legitimate and conscious choice of millions of adults worldwide, and considered by many as an integral part of national economies and historical heritage. We are deeply concerned by the raising efforts to stigmatize and discriminate people who have consciously chosen tobacco as a part of their everyday life, fully aware of its positive and negative aspects. We believe that adult smokers deserve appropriate tobacco smoking conditions that do not appear derogatory or pose additional health risks, but effectively protect non-smokers from tobacco smoke. We cannot accept that tobacco consumers are deprived of their right to be informed about the product they buy, because tobacco products are legitimate all over the world. At the same time we recognize, that non-smokers and adolescents must be protected from any kind of tobacco advertising. We urge all governments of the world to find the right balance on tobacco-related issues, taking into account the diversity of opinions, customs, behavioral norms, and not to ignore the interests of both smokers and non-smokers. Prohibitions and sanctions raise protest, while cooperation opens the way to public consensus and joint efforts in solving important societal issues.

Good info guys. I think I've got what I need. Sitting at the conference here and everyone's smoking cigars!

Hi all. I've been invited to speak at the International Conference on Smokers' Rights in Moscow tomorrow. I'm not much of an expert the subject, but they wanted a token foreigner to be able to deliver a short speech in English and say something about the smoking bans in Australia. Would be awesome if anyone had a few tips on what I should be saying in regards to the overall current situation with the smoking ban in Australia. Also of interest is smokers' opinions on plain-packaging cigarettes/cigars, and whether any of the anti-tobacco measures have been "successful". I've got more or less of an idea on the situation, but having not lived in Oz for many years, I'd prefer to hear some first hand accounts and opinions. Thanks! K495

+1 for SP Belicoso. I pick one up quite regularly. They have a sort of dry flavour, woody maybe. Fairly unique. Some years back they were awful. It seems someone's decided to look after the brand a bit better. Haven't tried any of the others.

So I paid a visit to LCDH Rome. Was quite a queue there as only one guy was serving and only one person could go into the humidor with him at a time. So took ages to get served. Selection seemed very standard - nothing particularly interesting available. Most people were buying Cohibas. I took the Upmann Connaisseur A and a RASS. Both were excellent. Overall - nothing special.

Smoked a few on holidays over the past two weeks: JL 2 RyJ Cazadores Punch LE 2013 Monty 2 RASS Upmann Conn A (the newish one) Upmann Churchill Lusitania Sancho Panza Belicoso Highlight: Cazadores - stunning cigar, blew the others away Lowlight: Monty - total let down flavour-wise. Honourable mention - Sancho Panza - did someone start paying attention to this brand again? It was a real good one!

Juan Lopez #2 paired with Glenmorangie Nectar D'Or - match made in heaven.

SLR Regio. Great Cuban flavour. Perfect size. Would have to be the most consistent cigar out there.

Partagas Conn #3. In mint condition. I cursed Habanos with every puff of this gem.

So I got in touch with the LCDH in Rome and their response was: I'm hoping they sell singles though. The few LCDHs I've been to in Europe seem reluctant to sell singles in favour of boxes.

Just checking in whether perhaps anything decent has opened up in Florence or Rome. Will be there next week! Anyone been there recently with anything to report? If I manage to find something, I'll report back here.

Love Bundy. I'm going to bring a few bottles back to Russia I think.