Posts

1,938

Joined

Last visited

Days Won

1
Profile Information
Location
Interests

Aviation, High-Powered Rocketry, Saxophones, Drums and Guitars, in that order. When Sigmund Freud said that sometimes a cigar is just a cigar, he'd obviously never had a Punch Double Corona...
Chas.Alpha's Achievements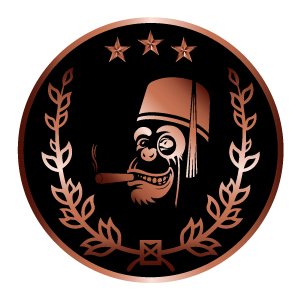 Campanas (3/5)
I actually don't know anyone that I would consider a mooch. That is to say I certainly wouldn't hang out with any. I share sticks with friends that will appreciate them. It's not like I haven't encouraged them to join FOH since I discovered the shop/forum in 2019, so if they don't have CC's in their humi that isn't a me problem...🙂

PL Picadores, MOE OCT 14. Bought at the ol' Partagas LCDH in 2019. Pleasant and cheerful, these were the $4 stick that I would reach for, assuming that they had reached their full measure. I'd left the remaining 5-6 in the hollows of my cab until about a month ago: Wow! suddenly full cocoa/mocha/orange/citrus bombs! Duckling to Swan in a 6 month period!!! Unfortunately, I have only 5 left. No, You're not getting one...🙂

I predict that a pair of new expensive shoes are in your future...

Even though I cannot submit requests for the latest offering due to current household economics, I still find these listings as capricious and arbitrary! @Ken Gargett what the hell does that actually mean??? Still miffed at @WarriorPrincess for not cherry-picking boxes at my request. There are plenty of glass top boxes available on other websites! PM me for a link... 😀

It's about 1 mile SW of Beach blvd and 295 on Town center pkwy. 15-20 minute drive from Jax beach. If you're looking for it they probably have it!

😀 This my favorite thing about FOH! I am always right, unless superseded by another opinion!

Perfect format. The 2019/2020 blends are better than I have ever seen. I think there were two blend changes. One around 2007/08, another in 2019/2020. Regrettably, I have only 20 or so left of the '19's. Way better than the Cohiba, are we really comparing the Monte's? 🙂

For those of us that remember the smell of the old ball game. Fresh baked pretzels, peanuts, hotdogs, open air cigar smoke paired with a local beer. Priceless...

Lynch's Irish pub is literally across the street from the Jax Beach pier (still under construction). There is also an ABC liquor store on Beach .,blvd maybe 6 blocks West of 3rd st. a.k.a hwy 1. If you have a car, google map Total wine. They usually have most anything of everything! Drop a note if you plan on burning one. Island girl is a good room, valet parking that IG validates. @BlueRidgeFly

Anytime @Ken Gargett posts, this is the image that I will have in my mind... Thanks FOH!!!