 Posts

557

Joined

Last visited
Recent Profile Visitors
The recent visitors block is disabled and is not being shown to other users.
sho671's Achievements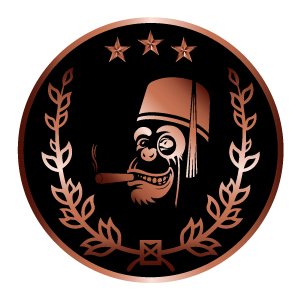 Campanas (3/5)
Tenth place may be the best I do.

Good eye, Kona. I'm out here until the end of the year. Looks like you're in Maui. I might be headed out there at some point.

Rafael Gonzalez Panetelas Extras TUE NOV 19 (CSSRW)

I was looking for a cheap morning cigar with coffee option and bought a box of these for $69 so about $3/cigar. They were sent to me domestically and I decided to smoke on ROTT over the weekend. For a short filler cigar the ash held on for about an inch or so. Draw was good and flavor-wise I was getting a lot of grassiness. No real transitions but it paired well the coffee with sugar and cream. No really hype around it and it is fairly cheap but it performed exactly what I wanted it to do. So I'd give it a "good" to "very good" 2-3/5. Better than the Atabey in my book.

The interesting thing is that if I were to use the 100 point scale, based on the graphic then the Atabey was a 70-79/100, which to others might be considered a poor cigar because it falls under 80. If every cigar is over 80 then they are all "very good, excellent, outstanding or classic." But then what is considered the real "average" cigar if everything is technically better than average?

Atabey Brujos 2021 (CSSRW)

I was never a fan of the 100 point cigar scoring scale because there is rarely a score under 80-85/100. So if virtually all cigars are over, let's say, 80 points then that would be the floor and there would only ever be a 20 point difference between the best and worst cigar. That's 80 free points for all cigars and really doesn't account for much. When I started reviewing cigars on this forum I went with a binary liked or didn't like the cigar. That then evolved to a 0-5 scale that I currently used after it was introduced to me by another member here, who I can't name off the top of my head. The 0-5 scale I use is depicted in the last photo below. On to the review portion. This was the second Atabey I've smoked with the first one being the 4x40 Hechizos. The brand gets a lot of praise but the Hechizos didn't really do much for me. I decided I should try a bigger vitola to see if I really missed anything. The construction was great with a good draw, burn line and ash that held on for a couple inches. But for flavor, I really only got this bitter cream note. It was a mix of bitter grass and cream but you know without the grass part. I was smoking outdoors mid-day under shad and drinking slightly chilled water. To me the cigar isn't quite worth the asking price. It was solid 2 (good/average) cigar in my book. I was planning on buying a box for a friend's wedding in October but think I will be going with something else at this point. 2/5

Nope. Closet guess so far.

Nope, the Fonseca No 1 was a little more mild and had sweet tobacco notes going on for me.

The 54 I tried was like smoking hot air, super bland. This had more going on, at least to me.

Smoked this earlier today and it was beautiful out. No real cold draw notes and I admittedly sucked on an unlit cigar for longer than I would have liked trying to pull a flavor note. Upon lighting there was a blast of earthiness that became a charred meat flavor in the first third. A mild cocoa came through in the second third and there was a slight pepperiness on the nose with the retrohale. The last third was a little bready and the earthiness came back. It was a little breezy out and I had a couple relights/touch ups. Overall a little more bold than I usually go for a morning smoke but it was still good. 2/5

None of these. Maybe my flavor palate is off.