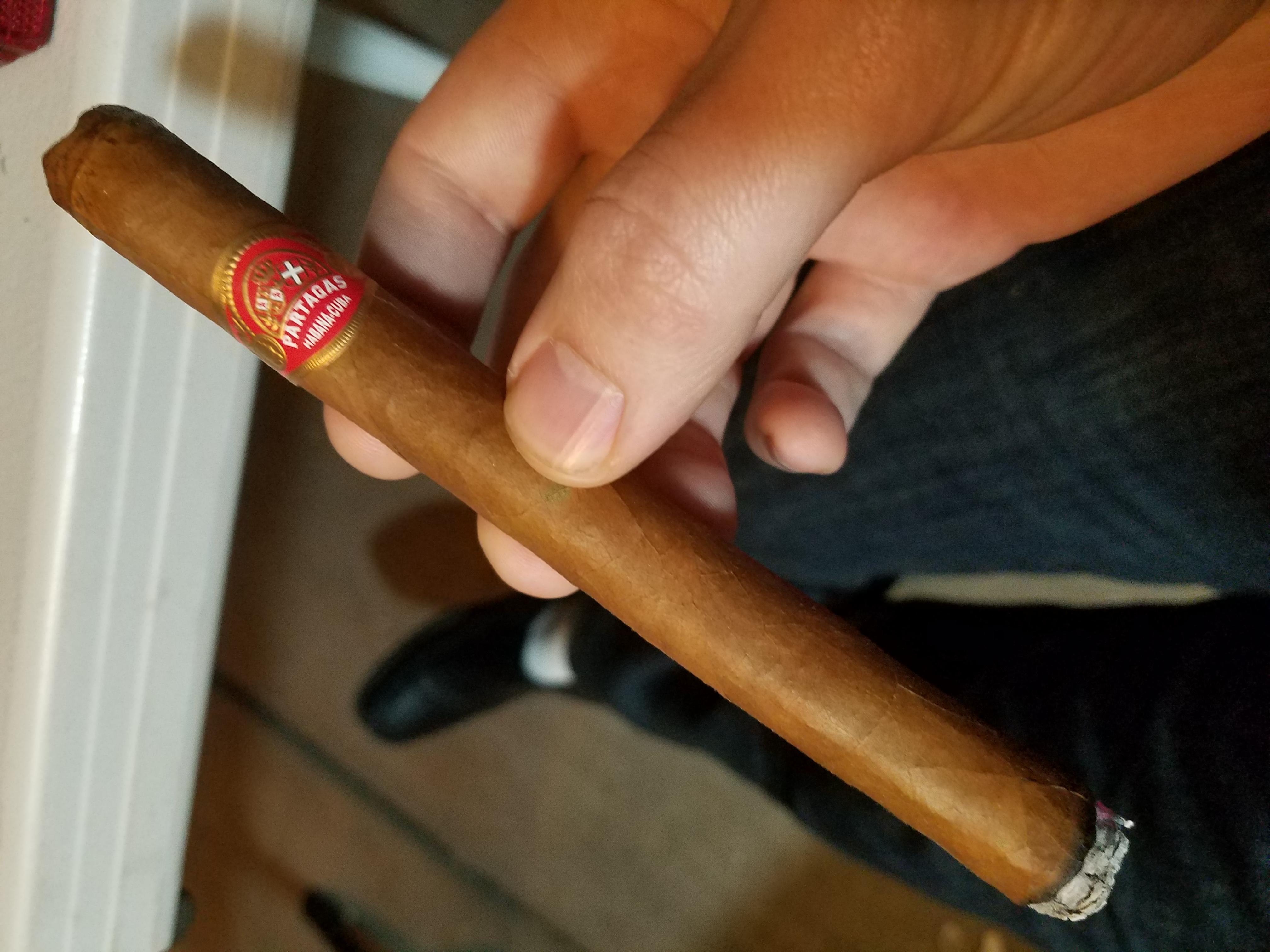 Posts

462

Joined

Last visited
Blogs
Profiles
Forums
Calendar
Gallery
Cuba and Cigar News
Community Map
Everything posted by JoeyBones777
I've been smoking cigars for quite awhile, since I was 21 and I'm now 40. While I agree, mostly, with the op I would make a distinction. I don't necessarily need a milder smoke but one with refinement, smoothness, balance and little to no pepper burn on the retrohale. I find these qualities in a wide range of strength cigars. While I tend to stay more medium to mild, there are stronger cigars that I enjoy, such as Liga Privada No.9 and an aged Opus X. I smoke a lot of Illusione, not the ultra line, Warped, Fuente and some Tatuaje, Surrogates, EPC, Foundation and Dunbarton when I'm not smoking cc.

For me, 5 years or so. In the interest of transparency, I haven't been in the Cuba game long enough to speak of anything aged much more than that. I do have 1 Monte 2 from a 2012 box that I bought in honor of my wedding that I will be smoking for my 10 year anniversary next year. It will be interesting to see if it holds up to the one I smoked on my 5 year anniversary which was one of the best cigars I ever smoked. All that said, it is subjective but 5 years seems to be the money spot for Montecristo for me.

I hear ya and tend to agree. What I typically think of is similar strength and flavor profile but I would rather they state those specs rather than try to ride Cuba's coat tails.

1

This cigar is supposed to have cubanesque flavor. I'm skeptical but it is made by United which makes Atabey. While I wouldn't say Atabey are cubanesque I do enjoy their flavor profile. After a cut and a light there is some earth, roasted nuts and pepper. The retrohale has some pepper as well but isn't too rough. Ash starts off nice. Staking dimes! As I smoke through the cigar there aren't any changes other than some coffee and dark chocolate flavors coming in but fairly muted. Those that call this cubanesque haven't had any Cubans. This screams NC to me and an average one at that. How 'bout that ash you ask? Well... it held on like a stripper on a greased pole. I give it an 84. While not my cup of tea it wasn't bad. I won't buy it again but if someone handed it to me I would smoke it.

12

I think a 100 pointer is a cigar experience you will always remember...and sometimes not always just because of the cigar itself but other factors that play into it such as the company you hold or reason for smoking it. I've had 2 such experiences. The first was the original release Padron serie 1926 80 years Maduro. I got 1 for me and one for my buddy who was moving out of town due to a promotion. I still remember the vibrant orange zest note along with rich coffee, dark chocolate, earth and a slight nuttiness. We both gushed over that cigar. The second was a 5 year old Montecristo No.2 that I smoked for my 5th wedding anniversary with my wife. Rich creamy cocoa, sweet biscuit and balancing Cuban twang that literally went straight through until there was nothing left without getting bitter...I busted out a skewer to hold it so I wouldn't burn my fingers. With these experiences it was a culmination of the cigar along with the company and celebration that made them memorable 100 pointers. True, this is subjective to me but I believe everyone has 100 pointers themselves whether they believe in them or not. You don't have to believe in something for it to truly exist.😉

Yeah, I'm originally from Buffalo. I was 9 when they made their first superbowl. I'm excited for their chances this year. Thank you, I did win poker last night.?

I'm expecting the Bills to roll over the Colts 31-17!

Yeah, right. Small area like Buffalo and it takes a cigar forum based in Australia for us to meet.? A buddy of mine lives close to that area. Whenever I'm in town we tend to hit up The Tinderbox after we smoke through the Cubans I bring.

Thank you! You're in Buffalo...what area? I was born and raised a couple blocks from the zoo and Delaware park.?

Good game, everyone! Thanks to a little help from Lady Luck I actually pulled off a win my first time back in awhile.?

Sir Winston, Party 898, Sir Winston, Siglo V, Sir Winston, Colonials.....Sir Winston. My biggest problem is money. At least I've been blessed enough to be able to try the Sir Winston and I do have a partial box of 898.

Hard pass for me. First RNA vaccine, rushed trials, no idea of long term effects, scary side effects reported plus statistically I'm more likely to die of the flu and I don't do flu vaccines either. My household likely had it last January though we were never tested for it. A couple recent studies show robust multilateral immune response in those that have already had it. So much so that immunity is likely to last years.

This is only the second time smoking this one. Both were from samplers so not 100% on box date. Draw was good and burn decent. Flavors were consistent throughout showing cake, twang and some nuts. Very enjoyable, smooth and on the sweeter side which I like. This is not the size I would typically go for. I'd like to try the corona Claro to see how its flavors compare as that size is more my style but it has been elusive compared to the 50 and 54. Overall an enjoyable cigar that I rate a 91.

This is only my second Trinidad experience. Both have been because of wins on this incredible forum since these cigars are out of my price range. Initial thoughts are that this cigar is too thick for my liking. I prefer 50 rg or lower. The draw was perfect and the construction is beautiful to say the least. Smooth wrapper and clean looking cap. Top notch! The flavors were quite good! Sweet, twangy with some counterbalancing bitter wood. There is a cake flavor in the sweetness, some coffee and nuts along with the Cuban twang. Smooth all the way through for, what I'm guessing, is a young cigar. I feel blessed to have been able to try this cigar since I would never have bought one of my own accord due to its size and price. Thank you FOH! I rate it a 93. I wouldn't mind having more Trinidad in my humidor but I will likely seek out Fundadores, which was the other I've had and it was great, or colonials which are a better price point and size by comparison. Great experience!

4

I agree with @Kaptain Karl. These were good young then hit a sick period has been my experience as well.

This box is almost gone, only 4 left after this one. Draw is good. Flavors are cedar, light cream, hints of vanilla, white pepper and toasted tobacco. It is predominantly woody with the other flavors complimenting. Not a bad cigar, a 90 in my book. For my next box of Hoyo's I'd like something that gives more cream and sweetness. I'd like to try the EE to see if that is more to my liking for the sweet cream kick.

Having seen them lose 4 SB in a row as a child I hope to see them win 1 in my lifetime. The team they are currently building has incredible potential!

That is one of my favorite Tatuaje though it is one of the lightest Tatuaje it usually has good flavor and complexity. Unfortunately, it sounds like yours was overpacked. Construction issues are quite rare for them.

Love these...the late hour, not so much. Given the price increases to Habanos these may end up in my special occasion rotation.

This was the churchill. It started off nice and I remember liking the figurado. Maybe it was just a bad one.

I didn't see any guidelines against NC's so if this doesn't count, so be it. I've been revisiting some NC's I've enjoyed in the past and decided to grab this one recently. Draw and burn are near perfect. Flavors start out with earth, black pepper, dark chocolate and a little sweetness. Retrohale is fairly smooth surprisingly. Around the halfway mark things ramp up quite a bit, especially with the earthiness. This earthiness is deep and imbalanced. This is where Nicaraguan tobaccan has a very hard time competing with Cuban. BBF tend to be bold and earthy but cleaner and balanced like mushroom/moss/forest floor, while this tends to be in your face and dirty, leaving your palette feeling filthy. There are some, albeit very few NC's that do earthy well, some Dominicans and very few Nicaraguans, but this isn't one of them unfortunately. It easily overpowered any sweetness that might balance it out. While there were other flavors there they didn't redeem the cigar. Construction was phenomenal and smoke time was an ample 2+ hours but the score, 82. Parts of it were enjoyable but not my bag.