Posts

573

Joined

Last visited

Days Won

4
Profile Information
Location
Interests

Comic book retailer and collector.
Cigars and old films.
gojira's Achievements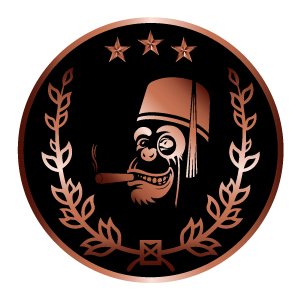 Campanas (3/5)
Released in small quantities. A very nice but rather mild cigar that's a little green towards the end. All my boxes have a few underfilled cigars but that's what we get nowadays when it comes to bigger RG cigars. Will sample another one next week but I really liked the first one I smoked quite a bit. And no, I can not help anyone sourcing some so no PMs please.

I'm currently not at home but I will post pics of everything once I'm near my stash again. I measured the cigar when it came in and from memory it was over 150 mm long and fit perfectly into the petacas. The person who sold it to me purchased it in Spain in the early 90's and he is someone that I trust 100% so I really doubt that this is a fake.

I talked to a retailer in Germany yesterday and it seems that the regular Cohiba and Trinidad cigars will "only" double in price there from early July on. There are a few Trinidad that I like quite a bit but I will not pay €700 for a box of Coloniales. So I am giving Trinidad as long as I have stock left in my cabinet. There are plenty of other marcas that I enjoy.

Everything is included, the individual box and the petacas so the cigar probably is genuine and this is another case of es Cuba.

That's what I found as well. I recently acquired one of these with one cigar left but the cigar is a little longer. I doubt that the cigar is fake, but it would definitely ease my mind if someone could confirm this (the length) as this is a high value item.

We all know that the Cohiba Coronas is a rare cigar. I have done a little research and found out that there were petacas with 5 cigars released. That information is missing from the Min Ron Nee book and CCW. I have a little favour to ask, if someone has this cigar, be it from the 25 count box and/or the petacas could he please PM me the measurements of this cigar. I would especially be interested in the length of the ones from the petacas but the one from the 25 count box will be helpful as well. Many thanks in advance!

I haven't posted in here for quite some time and thought that it would be nice to share some vintage cigars that just came in. I like to collect and smoke as many different vitolas de salida as possible and nearly reached 400 now. I like to purchase singles, it's cheaper and they don't take up that much space as I do not want to get another cabinet or cooler. Flor de Farach Coronas pre-revolution Partagas Presidentes early 80s Partagas Super Partagas Cubatabaco 1989 Cubatabaco Partagas Belvedere 70's Partagas Panetelas 60's Por Larranaga Monte-Carlo 60's H.Upmann Singulares Tubos 70's H.Upmann Coronas Major Tubos 70's H. Upmann Aromaticos Cubatabaco Fonseca Cosacos 70's La Flor de Cano Petit Coronas Cubatabaco Romeo y Julieta Celestiales Finos 70's Romeo y Julieta Sport Largos 70's Monte 5 La Corona Petit Coronas Cubatabaco Bock Reinas de Bock Pre-Embargo 1962 Ramon Allones Belvederes Cello 1998 Punch Double Coronas Cabinet early 80's Cubatabaco Punch Royal No. 11 early 80's Cubatabaco Trinidad Fundadores EL OLSU Trinidad Robustos T 2009 Romeo y Julieta Robustos LE 2001 Romeo y Julieta Hermosos No. 1 LE 2003

I have enough Cohiba to smoke one a month for approximately the next 20 years. I'll be 72 then so that should have to do. Edit: I just counted them on my spreadsheet and I'm good for 302 months. 🙃

The No.2 is one of my favourite cigars. I liked the No.4 better before everybody got excited about it and the price nearly doubled, luckily I have a few boxes tucked away but the No.4 will never even come close to the joy smoking a MUR 13 No.2 brings me. The Inmensos is a great cigar as well and I sadly only have a few singles left. The Partagas factory really was on a roll (🙃) from 2012 to 2014 and produced some of the best cigars of the decade there and those MUR Inmensos are just amazing. When it comes to the REs only a few of them stand out IMHO. The blend often has not much in common with the LGC DNA and nothing in common at all with the classic LGC sizes when there still was something that could be called a LGC portfolio. I like the Glorias the best and have high hopes for the Orgullosos but then again all the 109 REs are rather stellar cigars. I dislike the Invictos and the D No.5 the most. I did not even chase down any singles to try of everything that came after the Orgullosos but am keen on trying the BeLux one once it has been released.

2

They'll be quite expensive. €269 if released before the 1st of May, after that prices go up here (again).

I have a few singles from a split we did a few years ago. Looking forward to smoke them in a few years.

It has been a few weeks so I might as well post something good: Partagas SdC No.1 REC DIC 01

Cohiba will probably be more than I'm willing to pay so RG looks like the winner in my book.