Posts

683

Joined

Last visited
Wiley's Achievements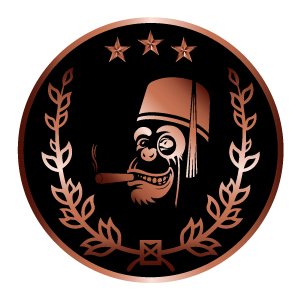 Campanas (3/5)
Thanks for the great post Ken! My family is from in and around Guernica.

I've had six or eight bottles of one of the Pedro Ximenez sherries that Rob recommended on this site years back (so far back I can't find the post using search.) It was like drinking raisins. I liked it, but the raisin taste is very pronounced. Not sure if that sounds appealing to your or not.

Glenmorangie Finealta - if you haven't tried it yet, I highly recommend it.

Math is like a language, and this was simply poorly stated. Someone was lazy and couldn't make the time to ensure their equation was unequivocal.

Currently reading One Hundred Years of Solitude by Gabriel Garcia Marquez. (Along with a half dozen books for work.) Also, the First Book of Samuel. Just finished The Angel's Game by Carlos Ruiz Zafon. Read The Brothers Karamazov last summer. Personally, I found the Grand Inquisitor piece to be the least interesting. My sister-in-law informed me it was the only part worth reading, so go figure. I really enjoyed the Dark Tower series. It's been a long time though.

Back in the old days Cuba had plenty of crop for not only their own factories, but also cigars rolled in Key West, Tampa, etc. If I recall correctly, the number of cigars smoked was orders of magnitude greater than now. I'm very skeptical of claims that demand will exceed supply.

Skydiving lessons and parachutes.

I have a great study bible I love to read: the Navarre Bible. As far as other books go: The Count of Monte Cristo, by Alexandre Dumas both Iberia and Hawaii, by James Michener The Old Man and the Sea, by Ernest Hemmingway Fahrenheit 451, by Ray Bradbury The Grapes of Wrath, by John Steinbeck Master and Commander, by Patrick O'Brien The Complete Short Novels, by Anton Checkhov The Good Earth, by Pearl S. Buck The Autobiography of Mark Twain, by Mark Twain The Silmarillion, by J. R. R. Tolkien I tried to list books that I continue to think about long after I read them, or that changed my thinking. The list could go on for a fair bit.

I heard this described as initiating the French into appreciating Monet. It was an interesting story. The web site is really brilliant! Exceptional! I'm an amateur painter, and a huge fan of Monet.

Ugh, more bad father guilt! This makes me think I should start involving my sons in my home maintenance projects. One more thing for the list, and generally, a pain in the ass.

Never thought about wrappers like that. Should I be?